Your shopping cart is empty!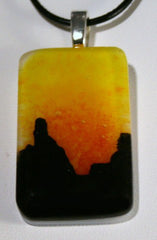 Pendant - Medium Fused
Type:
Pendant
This abstract scene pendant is lots of fun. It is hand painted and the background runs from an orangy red to bright yeloow. This piece is fired four times to achieve the end result. It comes with an 18 inch black leather cord and is 1×1 1/2 inches long.
$38.00