Your shopping cart is empty!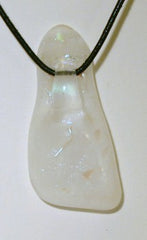 Pendant - Medium Dichroic
Type:
Pendant
This pendant is mainly white with a shimmer of color and will go with any outfit! The piece has a pass through for the necklace. It comes with an 18 inch clear rubber cord and is 1×2 inches long.
$37.00